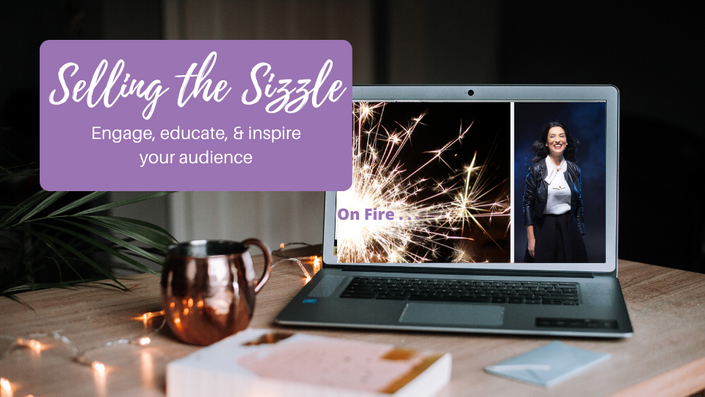 Selling the Sizzle
Writing Bios, About Pages, and More about Yourself to Engage, Educate, and Inspire
Watch Promo
In just two hours, you could own the value of your message, write with confidence, and hit all the right notes to connect with your audience!
Without getting lost wondering what to write and feeling cocky.
This is Selling the Sizzle!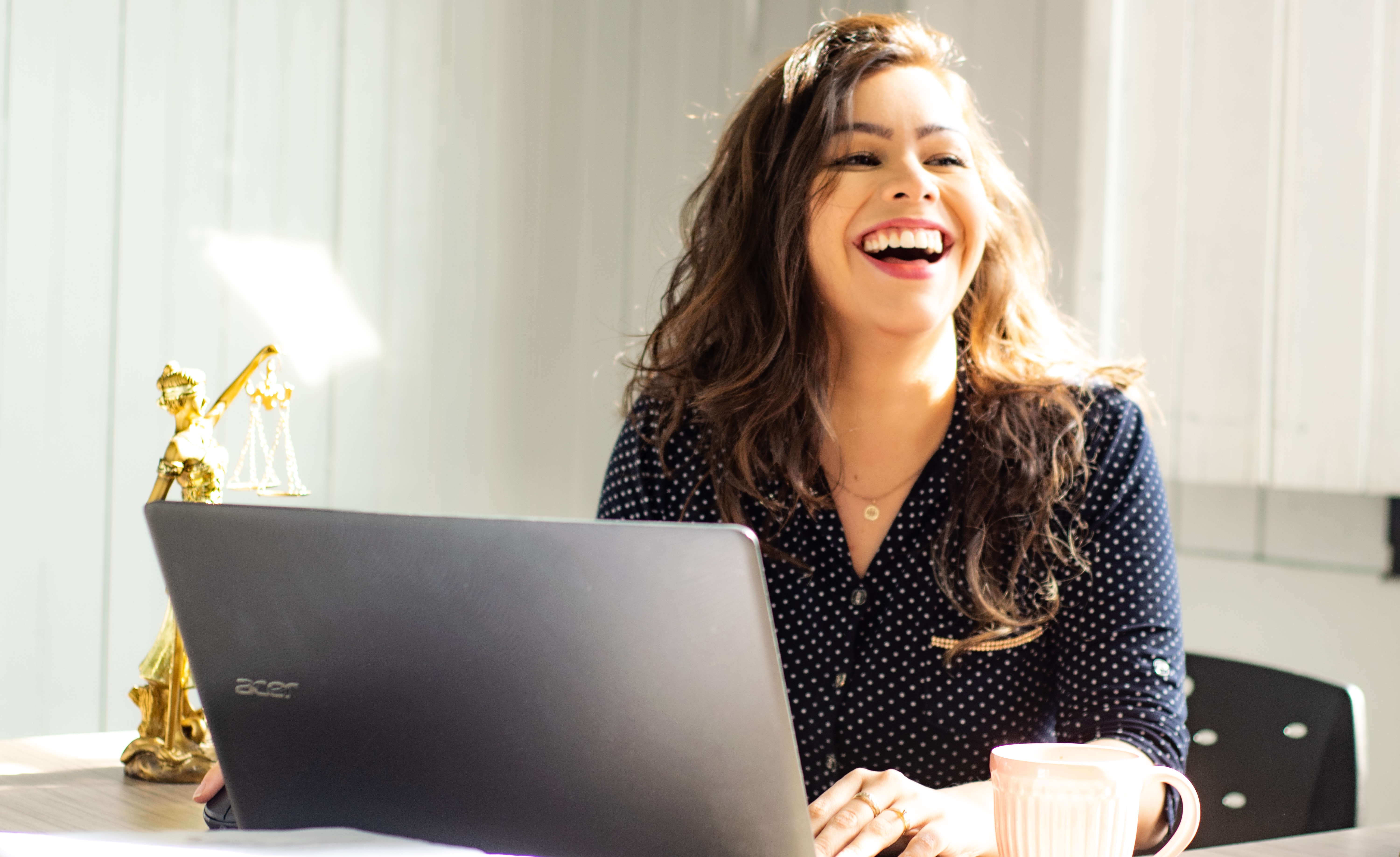 "Why do I stare hopelessly at my screen wondering what to type?"
"Maybe I should just avoid talking about my personal struggles."
"How do I know what my audience needs to hear to trust me?"
I hear this all time from clients. Clients who are clear on their mission and their ideal audience, making a difference in others' lives.
They have what it takes… yet they struggle.
Have you been there? Are you there right now?
Are you longing to reveal the parts of your story that you know will help others?
Are you tired of hiding behind your programs and hoping that clients just need you so you can get them the real results you know you can?
Tired of feeling like an eye-roll is heading your way every time you want to write about how you navigated that tough road?
You got into coaching, speaking, or owning your own business to help others. You have a big heart, and you know a lot about how to help your clients see results.
But for some reason, you struggle to talk about your own journey.
You know that others are going through the same thing that you did, but when you sit down to write about it . . . nothing happens! Worse yet, you feel sick to your stomach. People will think you're bragging. They will judge you. They will label you.
---
What if it's all in your head?
No, really.
What if you are the one who can change how you feel AND how others perceive your story?
---
You have control, and that means that you can master those feelings, learn tricks to get yourself writing, and write what will connect with that audience!
Maybe you thought this was a possibility before, so you focused on your ideal clients' pain and did all the research so you knew the strategies to fix it.
You worked on your confidence so you could speak your truth.
But you still felt unsure about how to connect their pain with yours. And you still weren't sure if you were actually giving them information that they needed.
And you still felt like people were judging you.
How can you make this work?
You know that getting that know, like, and trust factor is the key to connecting with clients, but how can you do it when you feel so exposed?
So you asked your coach or other business owners what to do?
Their solution?
Hire someone to write your copy.
Fake it till you make it.
Don't worry about your personal story; they will find you anyway.
So you tried it all.
But hiring out, hiding your feelings, or leaving out your story altogether just don't feel authentic.
You KNOW that writing about your story yourself is the best way to connect, get across the emotions, and truly build trust with your ideal clients!
Maybe that stuff works for some people, but you want to guide people on your journey to save them the struggle.
How can someone else truly be the guide when they are hearing it second hand?
I've worked with a lot of writers over the years, and there is something so paralyzing about the writer's block you feel when you have to share your personal journey.
It's tough. I get it. Especially if it's something that society could judge you for.
But the fact is . . .
You're going to stay stuck if you don't combine the mindset, writing ability, and knowledge of what your clients need to read to engage and help them.
So how do you change that?
If you're faking it, won't you feel like a fraud?
Here is the REAL solution—
We all know that we can convince ourselves of nearly anything, right? The trick is to be able to convince ourselves that we have a story we need to share, that it will help at least one person out there, and that we can actually write about it.
Everyone has the innate ability to communicate their story. Learning the special sauce for confidence in that story and sharing it the right way is the key!
Have you ever read a profile on a dating website?
People usually write their own, and they can be shockingly embarrassing . . . especially because what they don't say is just as important as what they do say.
Yes, my name is Cori Wamsley, and I found my husband online. On a dating website.
But that's another story altogether.
And while his profile was quality, many many others (like 95%) were atrocious. Why?
Because the writers were either caught up in what they didn't want to attract, too shy to talk much about themselves, or didn't know what they actually wanted.
What happens when you write something that your potential client doesn't want to hear?
You attract the wrong clients. Or none at all.
Here's a great example, based on the dating website.
One of my favorite profile go-tos is the "I'm just an average guy" motif. In fact, it's so easy to just put that. But what are you really saying when you say "I'm just an average guy?"
I'm just like everyone else.
That's not what you mean. YOU are not average. YOU have likes and dislikes. YOU have characteristics that stand out.
A lot of thought has to go into how you present yourself in print. So how do you reveal your story without feeling exposed?
How do you "turn it on?"
How do you keep from struggling?
If you know that you want to share your journey
If you know that you can help others with your story
Then you have to home in on your message, get out of your head, and discover how to write it.
I know that there are hundreds of writing experts, teachers, professors, and storytellers out there who claim to be able to help you write.
So who am I to be able to help you?
I'm Cori Wamsley.
I started out writing in middle school. I had read a ton of books by then (nerd alert), so I assumed that I could write a book.
You can laugh. It's ok. It was bad.
But it was a first attempt.
As I got older, I learned more about identifying what my ideal reader wanted to hear. I got my bachelor's and my master's in English literature (along with a random BA in biology). And then I spent 10 years as a contractor writing for a U.S. government national laboratory.
One thing I noticed was how much better our award applications did and how many more hits our webpages got when we shared our scientists' personal stories.
One of my jobs was to turn scientists into "real" people. (And they really are super cool, amazing people!) I got really good at chatting with them, extracting their stories, writing about their passion, their hobbies, etc. And readers were delighted. They wanted to know more about these people who were making their tax dollars work.
Very cool.
But when I set off on my own, I struggled to share my journey as a writer and author of 6 books.
I felt like people would judge me for being a "lazy government drone." I thought they would think I was an idiot because I was a creative. That's not a concrete expertise!
In fact, my time at the lab was crushing my confidence because I felt like I hadn't done anything to change the world, the way the researchers were. I was doing nothing.
That's when I remembered that the value in my story lies in my ability to connect people.
It lies in my ability to help others tell their story!
When we tell our story, we can help others through a difficult time, get them to their goal, show them that the way isn't so scary and that there is a light at the end of the tunnel.

We just have to have the confidence in our story, in ourselves, and in our ability to connect.
Do you want to stop that churning in your stomach every time you have to write about your journey?
Are you ready to stop feeling like a fraud when you explain that you've been there before?
THEN GET SELLING THE SIZZLE!
Your story is important!
And unique to YOU.
But until you can share it, feel confident in it, and harness its power, you will continue to hide your journey!
Think about the new possibility of ease and flow that you'll have when you can easily write about yourself and your journey.
When you're totally ALIGNED with your ideal clients' needs!
When you walk in your truth and can help others go through what you've been through!
When you can talk about every part of your journey that your clients need to hear about, everything changes!
It's so much easier to communicate! So much easier to connect! So much easier to build that know, like, and trust factor!
How?
You can be an authority in any industry. True.
But having credibility is much easier if you've been through it.
Would you pay for a business coach who has never run a business?
Would you take child-rearing advice from someone without kids?
Me either.
You no longer have to be afraid to tell your story and engage potential clients!
Imagine how good it will feel when you can finally sit down at your computer and write about the journey you've been on, confidently, willingly, without the feeling that others don't respect where you've been.
In fact, you aren't even worried about them. Your focus is on who you can help!
That's what it's like when you have mastered Selling the Sizzle.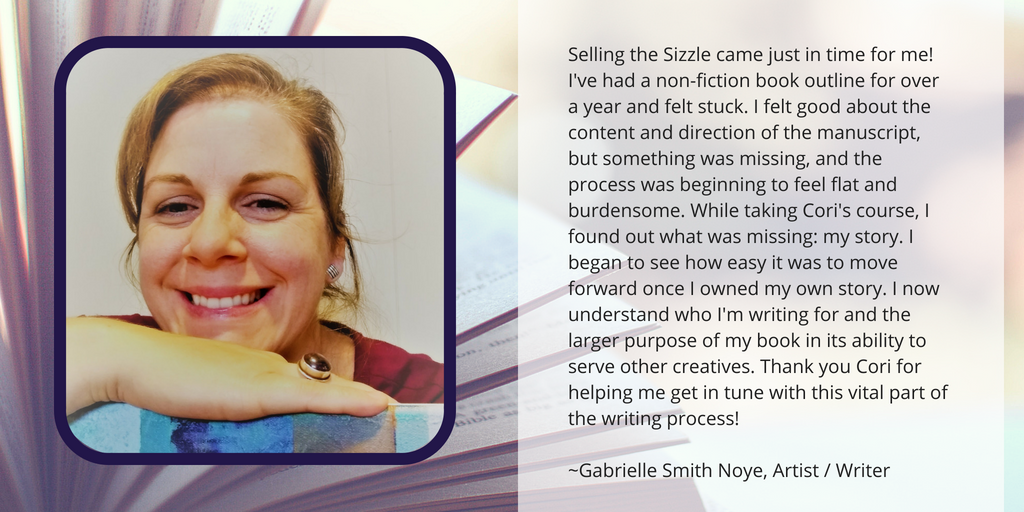 Here's the truth.
Your struggle will last as long as you don't have the confidence to speak your truth or write what your audience really wants to hear.
Here's how it works and what you'll walk away with:
---
Module I: Getting Started
Human connection is a huge desire, but it's also what makes writing about yourself tough.

You'll learn—
The big difference between talking about yourself and writing about yourself

How the connection on paper is vastly different from the connection in person

How that affects you and makes you feel overwhelmed when you need to expose your path

Start feeling comfortable with the process we are about to start together. Writing about yourself can be tough, I know!
---
Module II: Why People Hate Writing About Themselves
Uncover the feelings you're experiencing when you write about yourself and how to cope with them.
Discover the top three ways that people feel uncomfortable when they write about themselves

Learn how they apply to you

Write about the particular feelings that you are experiencing—this could take some serious soul searching!
You'll start the healing process by identifying exactly what it is that's stopping you from writing about your journey.
---
Module III : How to Become More Comfortable Writing About Yourself
This module is all about BECOMING.
Owning your journey and your story is a huge part of being successful in sharing it. You have to be confident in what you've accomplished and what you need to talk to your audience about before you can actually type it out. This is where so many people get hung up because they get part of the mindset piece, but not the part that's related to the actual storytelling aspect!
Here's what you'll learn:
My three favorite tricks to get yourself writing without feeling like a fraud

How we are more alike than different and using that idea to build trust in your message

Harnessing emotion to pinpoint the perfect words for what you're writing
---
Module IV: What to Actually Write About
Before you started this program, you knew that you were out of alignment with your audience because you lacked confidence in your message. Now that you are back in the groove, you can figure out the best way to get the point across and really build that know, like, and trust factor.
This is the best way to gain clarity on your message. Plus, I give you my secret sauce for figuring out what your audience most needs to hear to connect with you!
You'll learn:
My three-point formula for knowing what to write

How to determine what your audience wants to hear

The questions to ask yourself every time you sit down to write about yourself to at least get you started on the writing process!
This transformation isn't just for you. It will impact every aspect of your life, especially your business.
---
Moduel V: Storytelling Mastery
This is something special I created recently to help you understand how storytelling works as a connection piece with the audience. You'll learn:
The three elements of good stroytelling

My trick to using your audience's language to connect with them and leave them saying, "are you in my head?"

How to hook your reader's with intriguing copy
---
Once you pull all these pieces together, you'll finally stop struggling to put your story together or avoid even talking about it! You'll finally be able to write about your journey to connect with your ideal clients.
It doesn't matter how many certifications you have or how hard you try, if you only look at the isolated pieces without putting them together, then you won't be able to share your story to engage, educate, and inspire!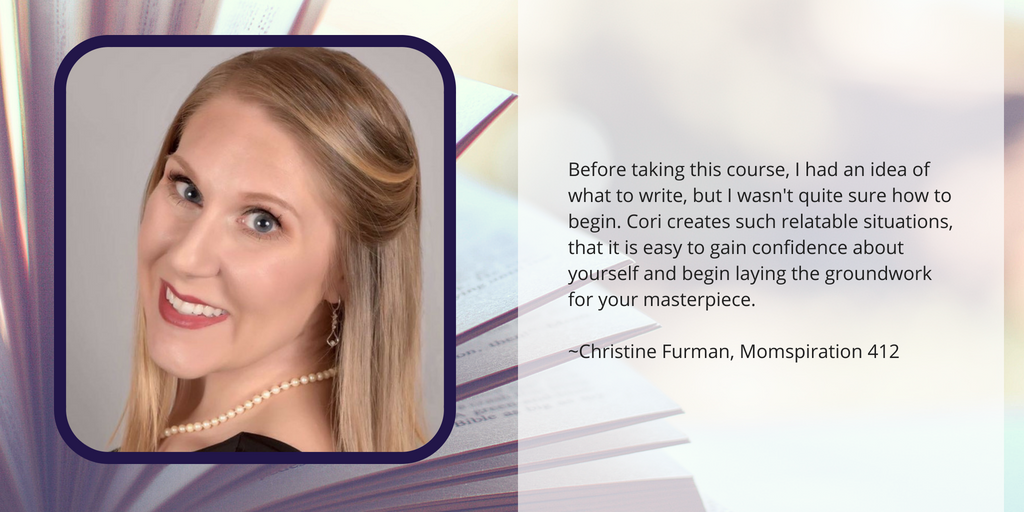 Your impact is directly proportional to your ability to reach others with your story!
If you want to expand that reach, that impact, that income, then you MUST know how to grab their attention by harnessing the parts of your story that most resonate.
And the only way to get there is with Writing About Yourself to Engage, Educate, & Inspire.
---
Once you tune into the power behind your story and know how to write it,
Your tribe will tune in to you and truly connect.

---
Stop hiding in your bubble.
Stop preventing yourself from living in your truth and using it to connect.

If you're ready to stop hiding—ready to let the light shine on yourself—then join Sell now.
You're ready.
This is your time to finally believe in your story and the power it holds!
It's your time to ACCEPT YOUR INVITATION to build know, like, and trust with ease.
It's your time to guide others with your story, to educate them and inspire them to achieve more!
THIS IS YOUR CHANCE to create without judgement!
Your Instructor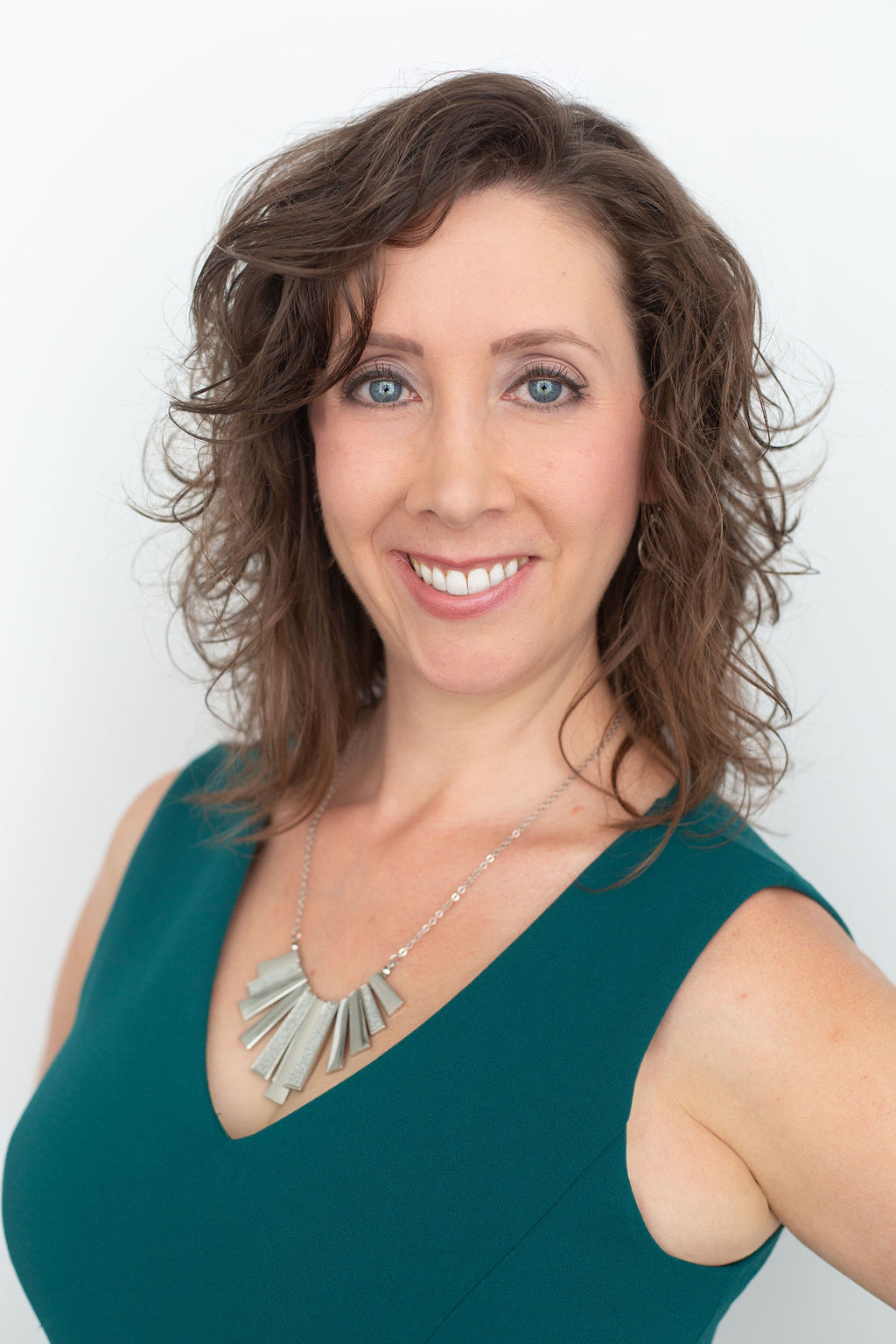 Hi! I'm Cori Wamsley. I help speakers, coaches, and other leaders just like you write a book fast to give them the credibility and visibility they need to uplevel their career. I help them create authentic books that allow them to reach a bigger audience and connect with media to gain greater exposure. My education, experience as an author of 8 books, and love for helping people tell their story drives me to get to the heart of what people want to share and why so they can put it in writing and make a huge impact.
I'm the bestselling author of my nonfiction book The SPARK Method: How to Write a Book for Your Business Fast. I also wrote and self-published seven fiction books: four in the Martina Mackenzie series (a magical middle grade mystery-fantasy series); Confessions of the Editor Brigand (a chick lit novel ; The Knight and the Ninjas (a self-illustrated children's epic poem); and Monkey Mermaid Magic, which I coauthored with my daughter London and illustrated.
I'm the former executive editor of Inspiring Lives Magazine, and I have 10 years' experience as a professional writer and editor for the Department of Energy and the Department of Justice. I hold a master's degree in English literature and bachelor's degrees in English and biology.
For more information, please visit www.coriwamsley.com.
Course Curriculum
Writing About Yourself Course
Available in days
days after you enroll
Frequently Asked Questions
When does the course start and finish?
The course starts now and never ends! It is a completely self-paced online course - you decide when you start and when you finish.
How long do I have access to the course?
How does lifetime access sound? After enrolling, you have unlimited access to this course for as long as you like - across any and all devices you own.
What if I am unhappy with the course?
We would never want you to be unhappy! If you are unsatisfied with your purchase, contact us in the first 30 days and we will give you a full refund.