Using the methods described in this course, you will not only understand why you feel arrogant writing about yourself, but you will also be able to finally focus on
What Makes You Fantastic
so you can confidently write bios, About pages, and other pieces where you need to reveal the true you.
Plus, I provide you with sample questions to ask yourself so you are ready to conquer your writing project, as well as samples of several different types of writing so you can see my methods in action!
Learn:
Why People Hate Writing About Themselves
How to Stop Feeling Guilty
Ways to Become More Comfortable Writing about Yourself
What to Actually Write About

No more putting off writing your About page. No more feeling icky trying to write your bio. And no more stumbling over words wondering if you sound like you're bragging or being a fake.
This is what people are saying about my work helping them write about themselves: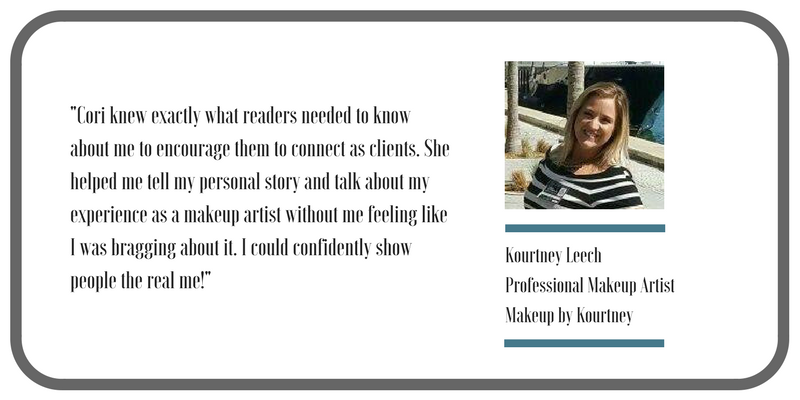 I get it! It can be scary trying to write about yourself. You don't know what to say. You feel like you shouldn't talk about your greatest accomplishments when that's probably what your audience really needs to hear. How are you supposed to do this?

I remember when I used to feel uncomfortable writing about myself. I didn't know what I should say, and I usually pieced something together that sounded like a pile of words that had been run over with a semi.
Yuck! Who's going to connect with that?
Then, I discovered the formula for connecting with my audience, as well as some of the mindset work that builds confidence, so I could finally write about myself without the worry.
Would I sound like I was bragging? A show off? A know it all? A fake?
Not anymore! I knew exactly how to write to what my audience expected. I could finally reach them, connect, and feel confident about the process. I share my process and some helpful tips in this mini-eCourse.
Pick up my course to discover the best way to connect with your audience by revealing your authentic self!